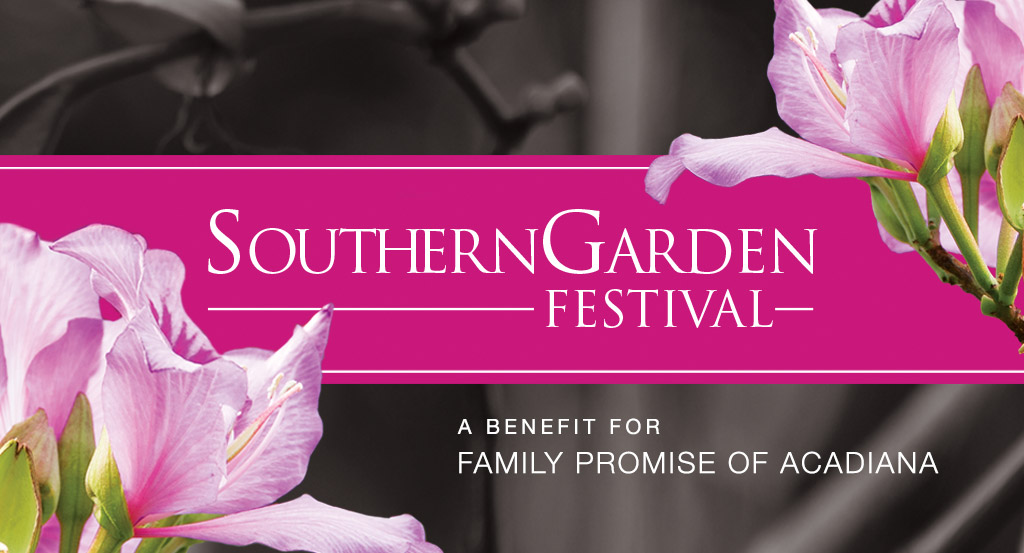 10th Annual Southern Garden Festival
Please visit the Souther Garden Festival's special web portal for a more vivid experience.
April 15-16, 2016
3502 E. Simcoe | Harold & Sarah Schoeffler Gardens (near Oakbourne Country Club)
Join us in the gardens for dinner & dancing on Friday night, followed by Saturday's full slate of outdoor activities. See details below. All proceeds benefit the families served by Family Promise of Acadiana.
Friday, April 15, 6-8 p.m.
Dining & Dancing Under the Stars
$75 person or $100/couple, includes entry to Saturday activities. Click here for reservations or call 233-3447. In case of inclement weather, the reschedule dates for Southern Garden Festival are May 13-14, 2016.
Menu: Jambalaya, Green Salad, Fried Catfish, Shrimp & Artichoke Soup, Bread Pudding and Fresh Fruit.

Live music: Nouveau String Band
Silent auction with great items up for bid. Cash, credit cards and debit cards accepted.
Art demonstrations with Ann Sutton and Andrea Rubinstein (water colors) and Anita Hughes Pottery.
Saturday, April 16, 9 a.m – 5 p.m.
Southern Garden Festival
$10 at the garden gate.
Please check back regularly as we will be updating the event details as they become available.
Live music throughout the day
10:00 a.m. Philip Gould & Rio Luminoso

11:00 a.m. Tommy Michot & Friends
12:00 p.m. Becca Begnaud & Les Restants
  1:00 p.m. Drew Landry
  2:00 p.m. Esther Tyree
  3:00 p.m. Gospel – Vergi Iglos
  3:30 p.m. Fire Expression Dance, Directed by Leigha Porter
  4:30 p.m. Gospel – Ecumenical Choir, Directed by Mathilda Martin
Master Gardener Sessions
10 a.m. – 2 p.m. Ask a Master Gardener

10 a.m. Stacy Lee & Meadow Landry (on behalf of Lafayette Master Naturalists) – Butterflies & Pollinators

11 a.m. Theresa Guidry – Container Gardening

 1 p.m. Maryann Armbruster – Medicinal Plants and their Use

 2 p.m. Cindy Wiley – Nurturing Old Garden Roses (cuttings available)
Artists, Exhibitors & Activities
D's Image Photography by Denice Broussard – Photography
Doll Fashions by Judy Dykes – Doll clothing, accessories
Emma's Closet by Joy Thibodeaux – Peasant dresses, bows, headbands, and more
Healing Arts Collective by Becca Begnaud – CD about cajun healing tradition
Imaginary Mosaics by Renee Foti – Mosaics made from vintage/antique china and glass
Lyn Fontenot – Painting
Madi Claire's by Stephanie Gaspard – Jewelry, monogrammed items
Mark Gustafason – Chainsaw artist
Nannie Pearl by Julia Bowie – Jewelry, cupcakes
Paparazzi Accessories by Marielle Brandon-Howard – Jewelry, accessories
Rivero & Associates by Ashley Rivero – Hand-painted oysters, crosses on cypress, jewelry
Stacy's Handstamped Jewelry by Stacy Culotta – Handstamped jewelry
Tissies Woodworking by Mary Dean – Wood working
Joe Paris, storyteller
Project Front Yard
Scenic Lafayette's Azalea Trail
Bayou Vermilion Preservation Association exhibit
Monarch Butterfly exhibit
Garden Fairies
Pigeon release by Lafayette Racing Pigeons, 12:00 p.m.
Maypole dance
Kids Scavenger Hunt
Hat-weaving kids activity
Sponsors
Presenting Sponsor

Oak Sponsors
Hub City Diner
Prejean Creative
Auto Rental Etc.
Woodforest Bank
Cypress Sponsors
All Seasons Nursery
Business First Bank
Darnall, Sikes, Gardes & Frederick, CPAs
The Garden Center
Mello Joy Coffee
Thibodaux Hebert Deshotels LeBlanc, CPAs
Exhibitor applications: online registration form.
View our photo gallery for scenes from the garden during previous festivals.
Thank you and we look forward to seeing you in the garden!