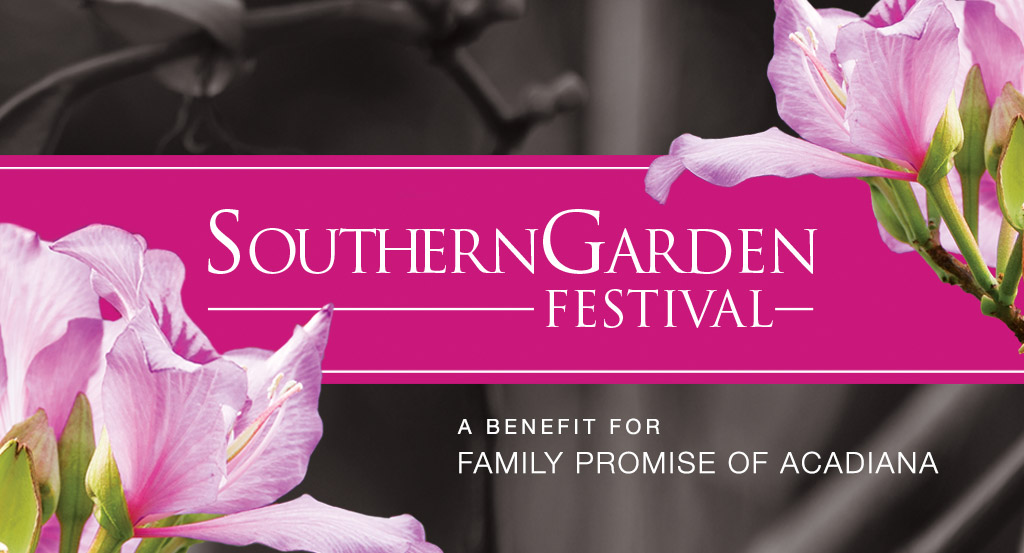 11th Annual Southern Garden Festival
April 21-22, 2017
3502 E. Simcoe | Harold & Sarah Schoeffler Gardens (near Oakbourne Country Club)
Join us in the gardens for dinner & dancing on Friday night, followed by Saturday's full slate of outdoor activities. All proceeds benefit the families served by Family Promise of Acadiana.
Friday, April 21, 6-8 p.m.
Dining & Dancing Under the Stars
$75/person or $100/couple, includes entry to Saturday activities. Tickets can be purchased online or by calling 337-233-3447.
Enjoy a delicious buffet meal, featuring locally-sourced ingredients, served with wine and water.
Silent auction with great items up for bid. Cash, credit cards and debit cards accepted.
Art demonstration by Anita Hughes Pottery.
Cork pull. Buy a wine cork for $10 and win a bottle of wine valued at $10 or more.
Saturday, April 22, 9 a.m – 5 p.m.
Southern Garden Festival
$10 at the garden gate. 
Live music throughout the day
11:00 a.m. Muse Trio
1:00 p.m. Duo Luminosa
3:00 p.m. Mama Loves You
4:00 p.m. Esther Tyree
Artists, Exhibitors & Activities
The World is My Oyster Designs by Madelyn Motty – Oyster shell crafts
Riverstone Jewelry by Debra Crowe – Handmade gemstones items
Sarah Rainey Art by Sarah Rainey – Original paintings and painted hair bow holders
Master Gardener sessions
Scenic Lafayette's Azalea Trail
Garden Fairies from Blue Bird Ballet Academy
Maypole dance
Hat weaving for kids
Monarch butterfly exhibit
Kids scavenger hunt
Presenting Sponsor

Oak Sponsors
LHC Group
Prejean Creative
Cypress Sponsors
All Seasons Nursery
Business First Bank
Darnall, Sikes, Gardes & Frederick CPAs
Hub City Diner
The Garden Center
Thibodaux Hebert Deshotels LeBlanc, CPAs
Woodforest National Bank
Registration forms
Vendor online application and downloadable form. 
Musicians online application and downloadable form.
Informational/Educational Exhibitor online application and downloadable form.
Scenes from the garden
View our photo gallery for scenes from the garden during previous festivals.
In case of inclement weather, the reschedule dates for Southern Garden Festival are May 5-6, 2017.
Thank you and we look forward to seeing you in the garden!
Please check back regularly as we will be updating the event details as they become available.